Marin DMV Hearing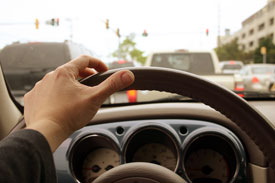 If you were arrested in Marin County, California for a DUI or DUID, after your licensed was seized, you should have been issued a Notice of Suspension. This pink form is your 30-day temporary license. It also serves as your formal notice to appear in criminal court.
Criminal court is where it will be determined if you are innocent or guilty of the pending charges. However, this is not the only proceeding you will have to attend. Within ten (10) days of the date of your arrest, you, or preferably your Marin County DUI attorney, will need to contact the DMV's Driver Safety Office (DSO) to schedule an Administrative Per Se hearing. During this hearing, your driving privileges will either be reinstated or your suspension will be upheld. If a hearing is not scheduled within the ten (10) days, you will lose the opportunity to have your license reinstated. If a hearing is unable to be scheduled within thirty (30) days, your drunk driving attorney should file for a "stay" or an extension of your temporary license.
The typical length of suspensions is four months; although, if you refused blood, breath, or urine testing to determine your BAC, and/or this was your second or subsequent offense, the suspension time is much greater.
The DMV hearing is not like a criminal trial. Representation is not provided, there is no judge or jury, and it is quite technical. The Law Office of Robert Tayac strongly encourages you to retain a DMV attorney that will aggressively defend your freedom and your driving privileges. To do this, your Marin County DMV lawyer will bring evidence and testimony to support you.
While there is no judge or jury during the DMV hearing, a DMV hearing officer will preside and will serve as the prosecution and judge. He or she will also submit evidence and testimony. It is likely the arresting deputy will offer testimony against you. The hearing officer will ask questions to determine your BAC level, if the officer had probable cause to pull you over, and if the arrest was handled legally. After all the evidence and testimony is reviewed, your license suspension will be either upheld or set aside.
To schedule your DMV hearing with the nearest Driver Safety Office, contact the Law Office of Robert Tayac without delay.
Home > Marin DMV Hearing